The National Scholarship Portal (NSP) has revolutionized scholarship distribution by implementing innovative methods to ensure transparency, efficiency, and security. Among its transformative measures, NSP biometric authentication stands out as a significant advancement. In this comprehensive article, we explore the importance of NSP biometric authentication, delve into the step-by-step process, discuss the benefits of this approach, and include a helpful table for quick reference.
NSP biometric authentication utility.
As soon as the session of National Scholarship 2023-24 started, the eagerness to fill out the scholarship form has arisen in the minds of all the students. But all the students who had filled out the forms for 2022-23 did not get the scholarship.
There is a question in his mind about why the scholarship did not come. Friends, you should know that just last week the Minority Department announced that all the students who had filled out the forms for 2022-23 must have NSP Biometric Authentication and that is why we have come up with this article.
As of 19 September 2023, we will tell you how to do NSP Biometric Authentication. In the previous article of our blog Hindi Techniques, we told you How to celebrate National Girlfriend Day 2023. Similarly today in this article we are going to tell you about NSP Biometric Authentication. So let's start
Before starting the article, let us tell you that in this article, apart from NSP biometric authentication, we will answer many types of questions related to it. Some of which we have given below.
Related Questions.
What is nsp biometric authentication?

What is the process of biometric authentication in NSP Scholarship?
How to do NSP biometric verification online?
Biometric authentication for the scholarship's last date.
NSP biometric authentication CSC login.
Your application has been sent back to the institute for revalidation.
The application under process for verification at institute level.
nsp bau.in.login
Dear applicant you are requested to get your biometric authentication done for your scholarship
What is NSP Biometric Authentication?
NSP biometric authentication is a state-of-the-art verification process that employs distinct physical attributes like fingerprints or iris scans to confirm the identity of students and institutions. This technology-driven solution mitigates the risk of fraudulent applications, streamlines the verification process, and guarantees that scholarships are disbursed to deserving candidates without unnecessary delays.
The Process of Biometric Authentication in NSP Scholarship:
The NSP biometric authentication process comprises several critical stages:
Institute-Level Verification: NSP conducts thorough verification at the institute level to ensure the accuracy and authenticity of applications.
Biometric Data Enrollment: Applicants and institute representatives must visit authorized CSC Aadhaar centers to register their biometric data, such as fingerprints.
Enhanced Security: Biometric data is securely stored and used for verification, augmenting security measures, and safeguarding sensitive information.
How to Perform NSP Biometric Verification Online:
Executing NSP biometric verification online is a straightforward process:
Visit Designated Centers: Applicants and institutes need to visit designated CSC Aadhaar centers to initiate the biometric data registration.
Documentation: Carry a copy of your Aadhaar card for identification purposes during the biometric data enrollment.
Complete Registration: Once your biometric data is successfully registered, it becomes an integral part of your NSP account, ensuring effortless future verifications.
Biometric authentication for scholarship last date.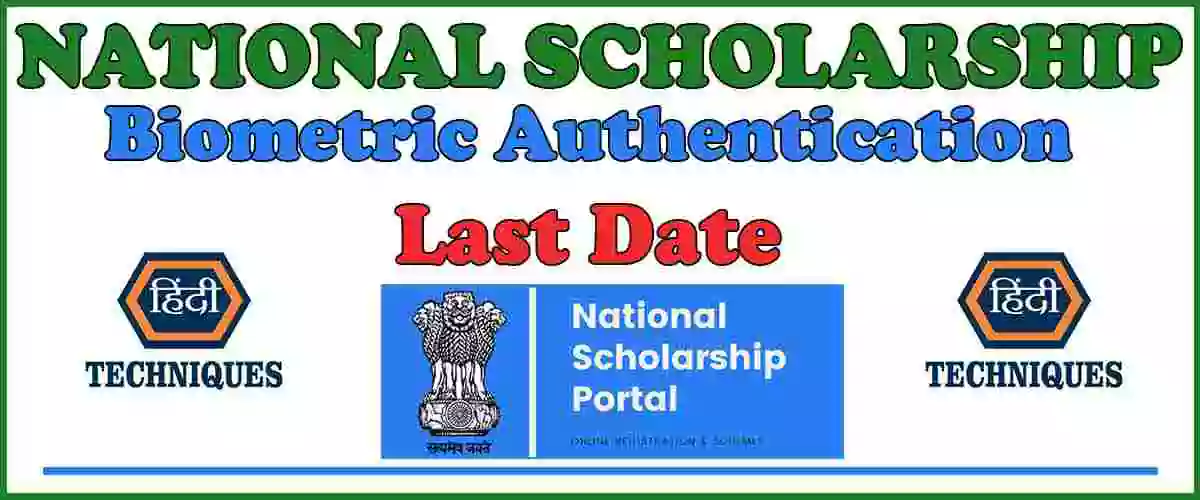 The implementation of biometric authentication within the National Scholarship Portal (NSP) marks a significant advancement in ensuring the credibility and legitimacy of scholarship disbursements. As part of this enhanced security measure, it's imperative for scholarship applicants to understand the key aspects, including the last date for biometric authentication and the process of CSC login.
The last date for biometric authentication is a critical deadline that all eligible stakeholders must adhere to. This date signifies the cutoff point for completing the biometric verification process, ensuring that only genuine and eligible applicants move forward in the scholarship application process. For the academic year 2022-23, the last date for biometric authentication has been set from 1st August 2023 to 5th August 2023 for State Nodal Officers (SNOs), District Nodal Officers (DNOs), Heads of Institutes/Schools (HoIs), and Institute Nodal Officers (INOs).
For students seeking scholarships through the National Scholarship Portal (NSP), the biometric authentication process must be completed between 5th August and 20th August. This timeframe is crucial, as successful authentication is a prerequisite for the validation of scholarship applications. Ensuring timely completion of biometric authentication is essential for students to secure their eligibility and participate in the scholarship program.
NSP biometric authentication CSC login.
To facilitate the biometric authentication process, the NSP has partnered with Common Service Centers (CSCs) to provide a seamless and accessible avenue for users to complete this crucial step. CSCs play a pivotal role in ensuring that the biometric authentication drive reaches all eligible stakeholders effectively. These centers are strategically located at District headquarters, respective institutes, and designated CSC camps.
The CSC login process for biometric authentication involves a series of steps. Users, such as INOs and HoIs, are required to visit the designated CSC Aadhaar centers within the specified time frame. Here, they will register their biometric details, including fingerprints and other relevant information. This step is essential to establish the identity of the users and verify their eligibility for scholarship disbursement.
By utilizing the services of CSCs, the NSP aims to make the biometric authentication process convenient and accessible, ensuring that a wider range of users can successfully complete this vital security measure.
Related Keywords
National scholarship portal biometric authentication utility (nsp – bau) , nsp bau portal, biometric authentication for nsp meaning , 
Your Application Has Been Sent Back to the Institute for Revalidation.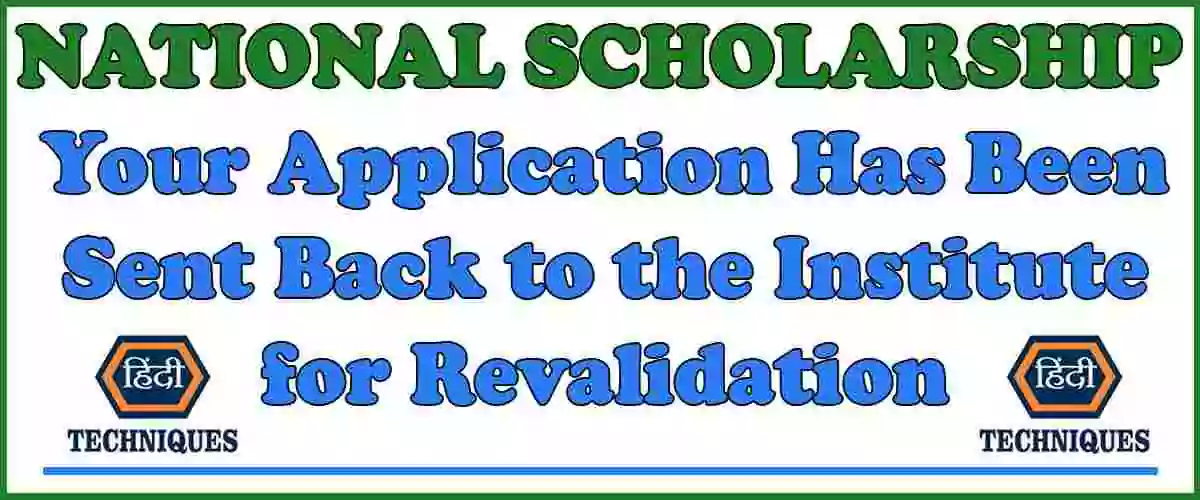 Encountering the message "Your application has been sent back to the institute for revalidation" indicates further verification is needed. To address this situation:
Visit Your Institute: Approach your institute and communicate the revalidation requirement.
Biometric Enrollment: Ensure your biometric data is enrolled at a CSC Aadhaar center to expedite the revalidation process.
Application Under Process for Verification at Institute Level:
This message signifies that your application is undergoing rigorous institute-level verification. Navigate this phase by:
Stay Updated: Keep abreast of communications from NSP and your institute to stay informed about any additional steps.
Follow Guidelines: Adhere to the instructions provided by NSP and your institute to facilitate a successful verification process.
NSP Biometric Authentication Timeline.
| Activity | Timeline |
| --- | --- |
| Biometric Enrollment | Ongoing |
| Last Date for Biometric Auth | Varies (as per NSP) |
| CSC Login for Verification | As directed by the institute |
NSP bau.in.login
The "NSP bau.in.login" refers to the login portal for the National Scholarship Portal (NSP) that is associated with the Banaras Hindu University (BHU) or bau.in. The NSP is a government initiative that provides a centralized platform for students to apply for various scholarships offered by different government departments and organizations. The inclusion of "bau.in" suggests a specific affiliation with Banaras Hindu University.
Through the nspbau.in.login portal, students who are affiliated with Banaras Hindu University can access their accounts, submit scholarship applications, check the status of their applications, and manage their scholarship-related information. This portal streamlines the scholarship application and disbursement process, making it more efficient and accessible for eligible students.
It's important for students to use the NSP bau.in.login portal to ensure they have access to the scholarships available through Banaras Hindu University and to stay updated on important dates, application requirements, and any notifications related to their scholarship applications. By providing a dedicated portal for BHU students, the NSP bau.in.login facilitates a smoother and more organized experience for scholarship seekers, helping them pursue their educational goals with financial support.
Dear applicant you are requested to get your biometric authentication done for your scholarship.
The message (Dear applicant you are requested to get your biometric authentication done for your scholarship)has been sent to all those students who filled out the National Scholarship 2022-23 forms and haven't received their scholarship yet. Their biometric authentication is still pending because the government has introduced a new provision this year, requiring every student receiving the National Scholarship to undergo fingerprint or biometric authentication.
That's why this message is being sent to all students who have received it. Students who have received this message should visit their college or school and inform their principal about this message. The biometric authentication will be conducted by your school or college. This message was also sent on August 10, 2023, and today, August 18, 2023, it has been sent again. Therefore, contact your school as soon as possible.
Conclusion:
Ensuring Secure Scholarship Distribution NSP biometric authentication exemplifies the commitment to transparent and secure scholarship distribution. By adhering to the biometric verification process, students and institutes contribute to a system that ensures scholarships reach deserving candidates promptly and fairly.
As NSP continues to foster educational opportunities, biometric authentication emerges as a vital tool in its pursuit of empowerment through education. The implementation of this technology signifies a step toward a brighter future for scholars across the nation.
Faq's
NSP Biometric Authentication is a verification process that uses unique physical characteristics, such as fingerprints or iris scans, to confirm the identity of scholarship applicants.
Biometric Authentication can be performed at Common Service Centers (CSCs) located in District Head Quarters and respective institutes.
Applicants need their NSP Login ID, Aadhaar Card, and valid documents as proof of their institute and course details.
Thanks
You may also like the given articles…